Hi there Loves~
With all the fundraising going on I thought I should take it back to square one. I want to explain the lifestyle, fears, hopes and dreams of the least of these that you will be helping.
This is Ethiopia's location.

Ethiopia's water and sanitation.
According to
this source
only 38% have improved water supply (98% for urban areas and 26% for rural areas). That means that in the rural areas 74% of people do not have access to clean water!!! And this picture below shows how SO MANY people get their water. At any given moment in Ethiopia you can be driving down the road and see hundreds of people carrying these big yellow buckets full of water to bring back to their home. This is the only water they will have for the day to cook with, clean with and DRINK!
I am sure you have heard this all before. "We should feel so blessed because we have so much, a roof over our heads, electricity, and water just waiting for us to turn the nob." But this picture below is a
reality
for the majority of the world.
Looks heavy right...

The work in

Kechene

, Ethiopia.
This 46,000 person-strong sub city within the capital is made up mainly of people who have migrated from the nearby semi-rural area. They still have links to the forest areas and many of them continue to eke out a living by rising at 4am to get firewood back to the city's morning market for sale by 7am.
Life is hard here. People gravitated to Kechene because life is simple and cheap. Small dwellings made from local mud and bamboo are put up quickly and back on to a river where the residents can wash themselves and their clothes for free. Buying piped water, which is safe to drink, is an unaffordable luxury for most people here. It costs 10 Ethiopian cents a bucket; less than third of an American cent. (unimaginable)

No one can accuse the people of
Kechene
of not working hard. They toil, often for up to
seventeen hours a day
, they have very little to show for it.
So many of the women have to go to collect sticks, while their young children are left at home. (These young children, together with your help, we will to get in to school and off the streets.)

Oromo

women carrying heavy loads down to a market in

Addis

. They will probably sleep on a footpath then walk up the hills back home to do it again. They will each make about $1 for the load. Pictures, Images and Photos" border="0">
The
JOY.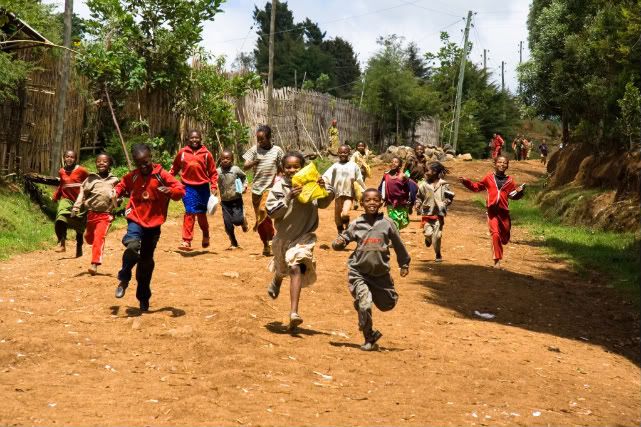 No comment necessary.
These are not extraordinary pictures. These are very typical things you would see when you visit Ethiopia. Some times when I look at pictures of these kind of things I think... "they probably found something totally wild and took a picture of it." But I can say having been to Ethiopia 3 times in the last 2 years that these are
very
normal and typical visuals of what you will see in Ethiopia.
The area in need
.
Kechene
is a district, within
Addis
Ababa
, Ethiopia's capital. It has the highest HIV prevalence in the city, with almost 16% of its residents estimated to be suffering from the disease.
With so little money, and such enormous challenges for the residents here, the children here have no option but to go out into the world an earn a living; to contribute to the family. The work available is physically demanding on these tiny laborers; it is not uncommon to see a boy of around 5 carrying his brother on his back as he goes about his work - selling Kolo (roasted barley). Tiny boys drift about hustling for work shining shoes: this earns about half an American cent a shoe shine.
"The children here have no childhood, and very little idea of play, or fun. They are only concerned about making a little money to eat, so you see them, from a tiny age, bent double carrying wood, or sat working with a weaver all day, which earns them just 1 birr a day, about 12 US cents", sighs Hannah.

"I read the paragraphs above and I break...I think of my 3 children...and how different their lives could be. If any of you know my kiddos( or anyones kids for that matter) you know they are so deserving of love, attention and opportunities! And SO DO THE CHILDREN ALL OVER THE WORLD! Please consider giving to help these deserving, important kiddos!"

resource for much of the info.
Again we know that we are hit up all the time with this kind of information. ((((HEARTBREAKING))))) We pray that we do not become immobilized by this and we pray all of you know that there are tangible ways to HELP and starting a school for these children will CHANGE their lives and the community around them!

We also want to put in a plug about our 1st mission trip
coming up at then end of July or beginning of August 2012.
When we go we will be talking with many of the children
who will be enrolled in the school

and we will be taking pictures of them
and getting their little life stories .